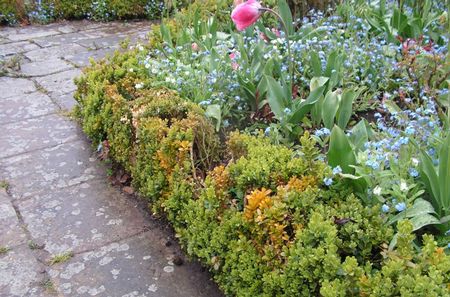 In Europe, I saw many tightly clipped Suffruticosa hedges such as the one in this photo. There appeared to be some old Box Blight in the plants, but also there was a lot of secondary infection of Macrophoma and Volutella. It is difficult to identify Box Blight when it is not active.
On April 26, 2012, the Royal Horticultural Society (RHS) along with Beatrice Henricot, a pathologist for RHS in England hosted a "Box Blight Stakeholders' Conference" in London.  Approximately 60 leading researchers, nurserymen, and boxwood enthusiasts from the United States and Western Europe attended the conference.  It was a wonderful meeting and a wealth of knowledge was shared by all.  I had the opportunity to attend this meeting, as well as visit many gardens in Western Europe.  I share some of my thoughts about my trip.   
It is becoming increasingly evident that the United States should soon turn from an attitude of keeping the pathogen out, to one of learning how to manage the disease.  The Europeans believe that it is only a matter of time before it is spread throughout the United States .  
Box Blight is very difficult to diagnose.  The damage from Box Blight is similar to fertilizer burn, winter burn, Phytopthera, boxwood leafminer damage, Volutella, and Macrophoma.  Oftentimes Box Blight might be the primary pathogen but secondary pathogens cover up the symptoms of the Blight.  It is important to have a professional disease clinic diagnose boxwood problems.
While all cultivars are showing at least some susceptibility, Suffruticosa appears to be the most sensitive to the pathogen.
Any boxwood cultivar that has very dense, tight foliage and therefore has a microclimate within the plant with high humidity and no air movement would be more susceptible.
Boxwood hedges growing close to the ground are more susceptible because of splashing rainwater.
Tightly clipped hedges, particularly with the variety Suffruticosa, will be more susceptible to Box Blight.
If we are going to grow any boxwood cultivar in a tight hedge, the branches should be thinned to allow air movement within the plants.
Stand-alone plants with good air movement within the canopy will be much less susceptible to Box Blight.
Overhead irrigation in gardens or in nurseries should be avoided whenever possible.
I continue to believe strongly that we must do more research here in the United States to understand this pathogen better.  I salute Kelly Ivors and her work at North Carolina State and look forward to seeing her results.
While Europe concedes that there is a problem with boxwood blight in the gardens, they nevertheless maintain that the boxwood is the aristocrat of plants and there is no replacement.  We, like the Europeans, must continue to search for cultural practices and varieties that will lessen the impact of the disease in the States.