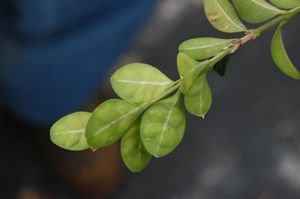 Leaf Blisters In Early Spring
Attached is an article we have written on Boxwood Leafminer.  The leafminers are becoming more active as the weather warms so we hope this is useful to help you answer questions.

Saunders Brothers, Inc., has been doing extensive work on this pest and my brother, Bennett, has given us many of his thoughts and findings.  We hope it is helpful to you.
Please do not hesitate to call us if you have any questions on this or anything else.
Happy Spring!
Robert SaundersSaunders Brothers Inc.phone 434-277-5455fax 434-277-5394cell 434-941-8036