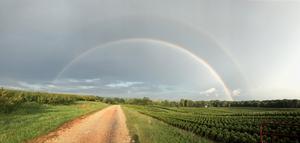 Job Openings at Saunders Brothers
Join Our Team
Positions Currently Open: There are two positions open at this time! One is for a fulltime Housing and Construction Maintanence Assistant. Click here for more details. The second is for a fulltime Inventory Manager, click here for more details on that job. If this is not something you are interested in, then please fill out our general application for us to keep on file for a future job opening.

Enjoy coming to work! At Saunders Brothers, you have the opportunity to join our talented team of wonderful folks, work among beautiful surroundings, receive great benefits and so much more.
Saunders Brothers is a wholesale nursery and orchard operation in central Virginia. We offer a competitive pay rate along with paid holidays, vacation/sick leave, retirement plan, and medical insurance. In addition, employees are offered discounts on plants and farm market purchases. 
READY TO APPLY?
Use our easy online form found below to apply for the position. When you click SUBMIT, your application information goes directly to our Human Resources Dept.

ONLINE GENERAL EMPLOYMENT APPLICATION
Prefer a hard copy of the application? Click here to download the application in pdf format. You may email your application (in pdf format) to info@saundersbrothers.com or mail a hard copy to Adrienne Phillips, 2717 Tye Brook Hwy, Piney River, VA, 22964.  Please call Adrienne Phillips at 434-277-5455, Ext. 18 for any questions regarding the application.  
Please submit the online application and your resume as a pdf when applying for a job here at Saunders Brothers. Information about jobs available can be found if you click on the link at the bottom of the page.